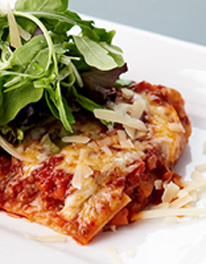 Serves 6, Source
Ingredients
Edit
BOLOGNAISE SAUCE
1 tablespoon oil
500g (1lb) lean raw minced beef
1 large onion, roughly chopped
2 cloves garlic, crushed
2 level tablespoons flour
2 x 400g cans chopped tomatoes
3 tablespoons tomato puree
1 teaspoon sugar
PASTA
about 6-8 sheets fresh lasagne
CRÈME FRAICHE SAUCE
2 tablespoons cornflour
1 tablespoon Dijon mustard
1 x 500g tub low fat crème fraiche
100g (4oz) fresh Parmesan cheese, grated
Directions
Edit
Preheat oven. Butter an oblong dish, about 23cm x 30cm (9" x 12") and about 6cm (2 ½") deep.
Heat oil in a large non-stick frying pan and brown mince all over. Add onion and garlic, sprinkle in the flour and stir. Stir in tomatoes, tomato puree and sugar and season. Bring to the boil, cover and simmer for about an hour or until tender.
To make the crème fraiche sauce, measure the cornflour into a saucepan, add mustard and 2 tablespoons of crème fraiche, whisk until smooth. Add remaining crème fraiche and season. Bring to the boil whisking by hand until slightly thickens. Watch out that it doesn't stick on the base.
To layer the lasagne, divide the meat sauce in three and spoon a third into the base of the dish. Spoon a third of the crème fraiche sauce over the top and roughly spread over, sprinkle with a third of the Parmesan. Arrange a single layer of 4 sheets of the pasta without overlapping. Repeat using two more layers each of the mince sauce and crème fraiche sauce and one of the pasta, so the final layer is mince and crème fraiche sauce. Sprinkle the remaining parmesan on top.
Other Notes
Edit
Can be made up to 48 hours ahead, covered and kept in the fridge. Freezes well before cooking.
Cook in preheated oven 220C/200 Fan/Gas 7 for about 25-35 minutes or until the top is golden brown and the pasta is tender.
Community content is available under
CC-BY-SA
unless otherwise noted.